"And it's all captured with the volatile tonality of an especially nasty Peel Session. This is a perfectly nauseating listen, friends. Go forth and be mortified." – Decibel Magazine
"Putrefaction (Eternal Decay)" is the latest gory decimation from Seattle death metal outfit, CEREBRAL ROT, and their impending debut LP, Odious Descent Into Decay. The LP is oozing towards its worldwide release through the deathmongers at 20 Buck Spin in mid-August, after which the band will trek across the US with labelmates Fetid on the Odious Mess Of Seeping Decay tour. Continuing to extract the deadliest beings from the dankest corners of the Northwest, 20 Buck Spin summons from the festering swamp-soaked murk the revolting mutation that is CEREBRAL ROT. Like sewage winding its way through tunnels below the street, the band's music reeks with the stench of vulgarity and noxious body fumes. The band shares members with other acts from across the region including, Fetid, Crurifragium, Cauterized, Caustic Wound, Excarnated Entity, and others. Stream CEREBRAL ROT's "Putrefaction (Eternal Decay)" RIGHT HERE. Odious Descent Into Decay will see release on LP, CD, cassette, and all digital platforms via 20 Buck Spin on August 16th. Fans of Fetid, Undergang, early-Carcass, and huffing embalming fluid, CEREBRAL ROT is for you. Preorders are available at the label webshop HERE and Bandcamp where "Repulsive Infestation Of Cadaver" and "Swamped In Festering Excrementia" are also streaming HERE. CEREBRAL ROT will tour across the US in support of the LP alongside 20 Buck Spin kin Fetid. The tour will run from August 29th through October 11th, with thirty-four cities on the chopping block. 
CEREBRAL ROT Tour Dates w/ Fetid:9/02/2019 Cryptatropa Bar – Olympia, WA9/03/2019 Graveyard Bar – Salem, OR9/04/2019 RampArt Skatepark – Arcata, CA9/05/2019 Elbo Room Jack London – Oakland, CA9/07/2019 Five Star Bar – Los Angeles, CA9/08/2019 Bancroft – San Diego, CA9/09/2019 The Pussy Dispenser – Las Vegas, NV9/10/2019 Master's Chambers – Phoenix, AZ9/13/2019 3 Kings Tavern – Denver, CO9/14/2019 The Cave – Santa Fe, NM9/15/2019 Rockhouse Bar – El Paso, TX9/16/2019 Friend of Sound Records – San Antonio, TX9/17/2019 Lost Well – Austin, TX9/18/2019 The White Swan – Houston, TX9/19/2019 Circle Bar – New Orleans, LA9/20/2019 529 – Atlanta, GA9/21/2019 Gottrocks – Greenville, SC9/22/2019 Al's Bar — Lexington, KY9/23/2019 Cary St. Café – Richmond, VA9/24/2019 Atlas Brew Works – Washington, DC9/26/2019 Asbury Park Brewery – Asbury Park, NJ9/27/2019 Saint Vitus Bar – Brooklyn, NY9/28/2019 Ralph's Rock Diner – Worcester, MA9/29/2019 Bug Jar – Rochester, NY9/30/2019 Sub Alpine Society – Pittsburgh, PA10/01/2019 Junker's Tavern – Cincinnati, OH10/02/2019 Outer Limits Lounge – Hamtramck, MI10/03/2019 TBA -Chicago, IL10/04/2019 Point Music Hall – Milwaukee, WI10/05/2019 Eagles 34 – Minneapolis, MN10/06/2019 Lookout Lounge – Omaha, NE 10/08/2019 Ernie November – Cheyenne, WY10/10/2019 The Shredder – Boise, ID10/11/2019 High Water Mark – Portland, OR Embalmed in an analog toxic dump, the debut CEREBRAL ROT LP Odious Descent Into Decayfollows the well-received Cessation Of Life demo, released in 2018. The new LP melts the skin with radioactive brutality and gurgling bursts of punishing cruelty. Virulent subterranean death metal glistening with pustular fallout and obscure rotten air left too long on the morgue table, the skin peels off and the last gasp of life echoes terrifyingly within. A rank abomination of disgust, Odious Descent Into Decay relies not on over technicality but disfiguring physical violence and battering submission in its quest for the true embodiment of sub-underground death as it morphs from one wet distorted monstrosity to another. Like the miserable mess of decayed forms on the cover, the septic sickness of CEREBRAL ROT has only just begun to spread.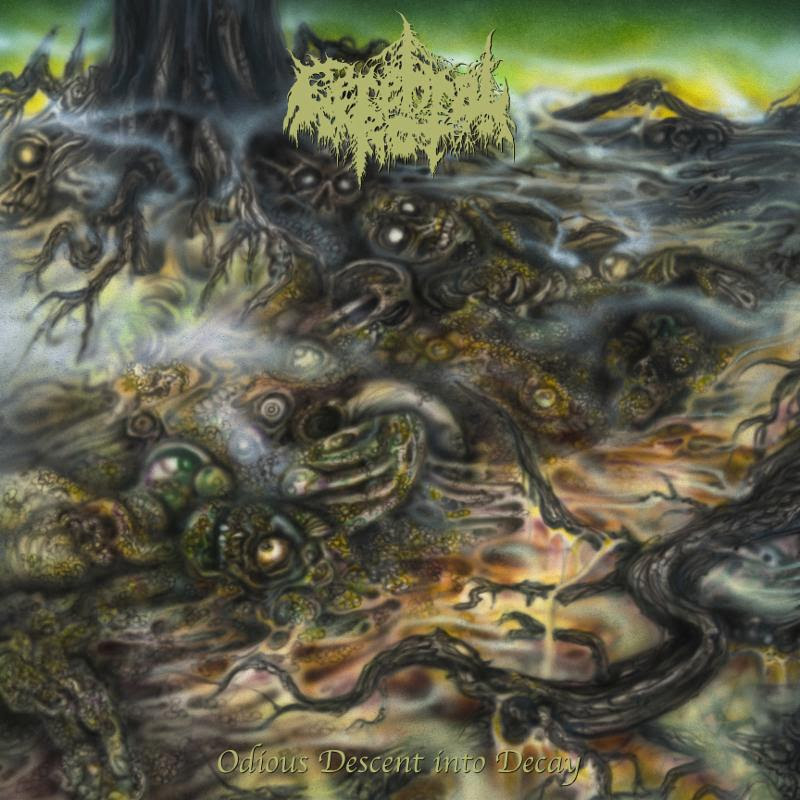 https://www.facebook.com/cerebralrotdm
http://www.facebook.com/20buckspin