Life of Agony's Alan Robert Follows-up His Best-Selling Debut With The Beauty of Horror 2: Ghouliana's Creepatorium – Hits Shelves Today From IDW!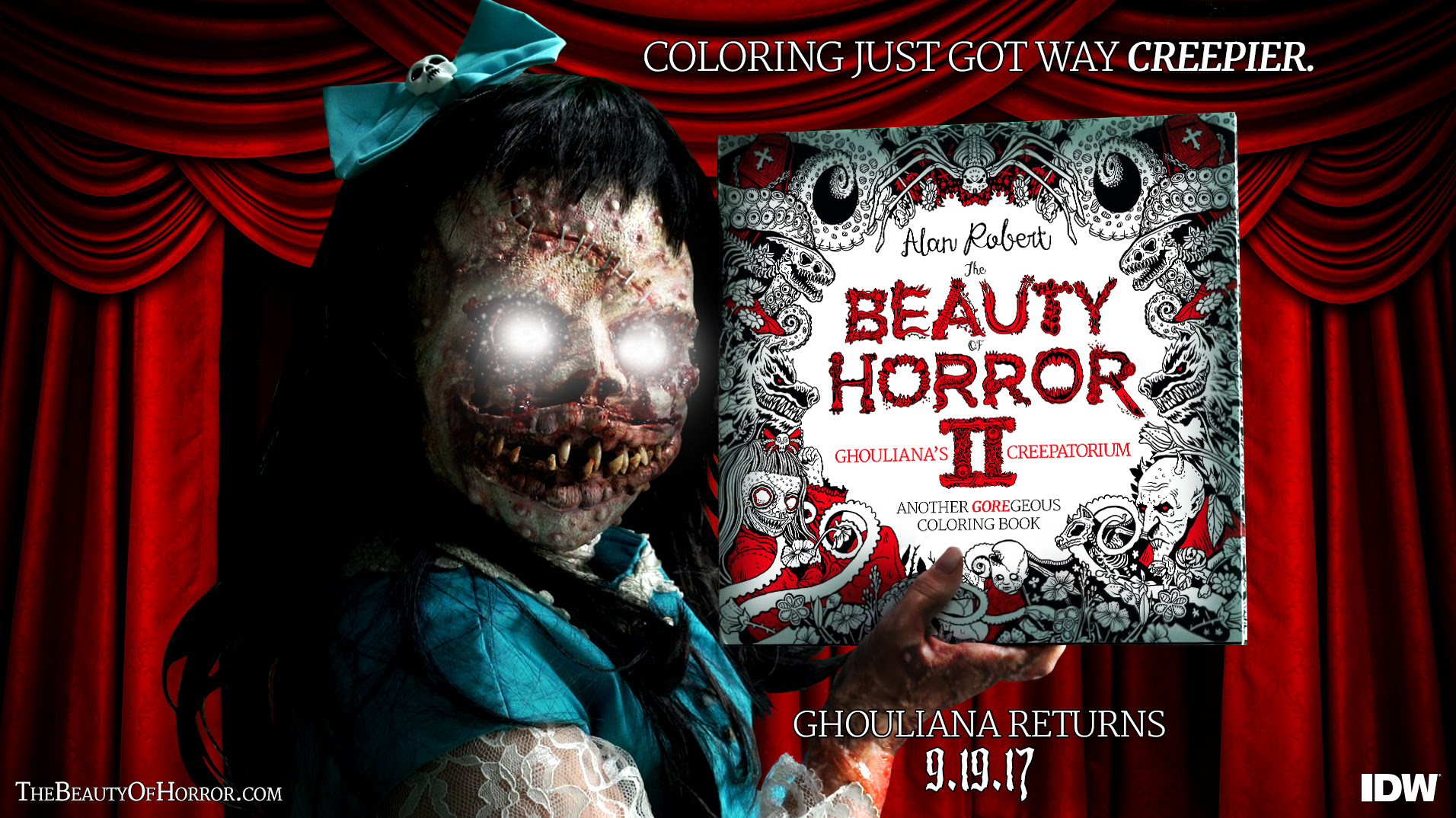 New York, NY (September 19, 2017) – Life of Agony's Alan Robert has established himself as a prolific horror illustrator & writer over the last several years. Since 2010, Robert has created several award-winning titles through IDW Publishing (Crawl to Me, Killogy, Wire Hangers, The Shunned One). However, nothing would prepare him for the wild success of his 2016 breakout hit The Beauty of Horror: A GOREgeous Coloring Book. Nerdist hailed it as being "The World's Creepiest Adult Coloring Book" and it was IDW's #2 top-selling book last year.
Just in time to kick off the Halloween season right, the highly anticipated sequel The Beauty of Horror 2: Ghouliana's Creepatorium – Another GOREgeous Coloring Booksees its release today (Sept. 19) and it delivers even more scares and intricate line-work than the original.
"Terrifically morbid and visually awesome!"-ALTERNATIVE PRESS
"Prepare yourself for all the haunting delights that Ghouliana's Creepatorium has to offer!"-BUSTLE
"The best horror coloring book on the market!"-COLORING QUEEN
"Delightfully creepy… will no doubt give you the loveliest nightmares."-NERDIST
Ghouliana's Creepatorium continues the journey of everyone's favorite undead girl, Ghouliana, as she mischievously attempts to trick budding colorists into unleashing her deadly spell. Ghouliana has secretly sprinkled her haunted ingredients throughout over 80 pages of Robert's detailed drawings.The Beauty of Horror 2 features a beautifully chilling red-foiled cover and high-quality paper that will ensure the pools of blood you color don't leak through the pages. Robert and IDW have once again come together to present a deluxe coloring experience.
The Beauty of Horror 2: Ghouliana's Creepatorium, Another GOREgeous Coloring Book
 by Alan Robert is in stores now from IDW Publishing. 
http://www.thebeautyofhorror.com
TP * BW * $17.99 * 88 Pages * 9.8″ x 9.8″* ISBN: 978-1-68405-070-3
Following the book's release, Alan Robert has set up a number of signing sessions and meet and greets.  Please find all details below:
Book Signing, Time: TBA
Forbidden Planet, NYC
New York Comic Con
Panel:  Keeping Control of your Comic: Copyrights and Contracts for Creators
Panel Room: 1A05
New York Comic Con, IDW Booth#: 1844
BookTowne
Friday 10/27

 – 

Sunday 10/29
Chiller Theatre Expo, Rock & Roll Room
Autographs, Photos, and Custom Illustrations
Hilton Parsippany
One Hilton Court
Parsippany, NJ 07054
About Alan Robert
Over the last two decades, Alan Robert's hard rock band Life of Agony built a die-hard cult following, selling over one million albums worldwide. Their debut album River Runs Redwas named "One of the Greatest Metal Albums of All Time" by Rolling Stone. In April 2017, Life of Agony released their 5th studio album A Place Where There's No More Pain (Napalm Records) to critical acclaim and it debuted at #24 on Billboard's Hard Rock Albums chart. Robert is also the award-winning author/artist of several IDW creator-owned comic book series. Titles include Crawl to Me, Killogy and Wire Hangers. Crawl to Me is currently in development to become a live-action feature film.
About IDW
IDW Media Holdings, Inc. (OCTQX: IDWM) is a fully integrated media company, which includes publishing, games, entertainment, and the San Diego Comic Art Gallery.
IDW Publishing's comic book and graphic novel catalog includes some of the world's most popular entertainment brands, including Transformers, My Little Pony, Star Trek,Teenage Mutant Ninja Turtles, Ghostbusters, and Disney's classic characters. At IDW's core is its commitment to creator-owned comics including 30 Days of Night, Locke & Key, Wormwood, Ragnarök, V-Wars, and Archangel by bestselling sci-fi author William Gibson.
IDW Publishing is also home to the acclaimed and award-winning imprints; Top Shelf, The Library of American Comics, Yoe! Books, and Artist Editions, showcasing the greatest original art ever published in American comic books.
IDW Games' diverse line-up includes the international phenomenon Machi Koro, as well as hit licensed games such as X-Files, Back to the Future, The Godfather, and TMNT.
IDW Entertainment currently serves as the worldwide distributor of Wynonna Earp airing on the Syfy Channel in the U.S. and is producing BBC America's Dirk Gently, based the best seller by Douglas Adams starring Elijah Wood and Sam Barnett, and Brooklyn Animal Control.
Related articles