Stream new song "Pink Diamond" from Divino Niño exclusively @ The Big Takeover!
"…slinky, sexy garage-psych…" – The Big Takeover
In support of their upcoming debut album "Pool Jealousy" out April 8th on The Native Sound, Chicago psychedelic garage and indie band (by way of Bogota, Columbia) Divino Niño has premiered the latest track for their upcoming release, titled "Pink Diamond" currently streaming exclusively at The Big Takeover.
Consisting of members, Camilo Medina, Javier Forero, Guillermo Rodriguez and Pierce Codina, Divino Niño is known for their dreamy, psychedelic sound, drum loops, harmonies, world percussion, and Latin American roots – Medina and Forero met in Bogota, Colombia when they were very young, reuniting again in Miami, Florida in 2003, and have been playing music ever since.
In 2010, Medina moved to Chicago and met Guillermo Rodriguez in college and began a project calledContinental Breakfast. A year later, after Continental Breakfast broke up, Javier joined Camilo and Guillermo in Chicago and began making music right away. Pierce came like an angel from Venus after his locally known project Tin Tin Can came to a halt. It was then that the band began writing and recording what would become their debut full-length album, and forthcoming release with The Native Sound, Pool Jealousy.
To this day the group is bonded together by their naiveté, lust for romanticism, and their unshakeable belief that a song should move your soul or your hips.
Says the band about their new song, "This tune holds the feeling of comforting my lover, who was at the verge of losing her mind on my bathroom floor. We both lost grip of reality for a night and everything seemed to be happening fast and blurry, like a dream. Thereupon, this song is meant to put you in the surreal realm of an optimistic sadness."
* Pre-order "Pool Jealousy" here!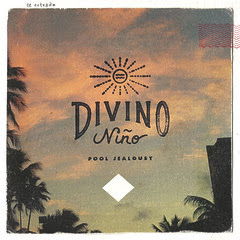 "Pool Jealousy" Track List:
1. Lara Jones
2. Man of the Sea
3. Wicked Man
4 Moonlight Girl
5. Pink Diamond
6. Pool Jealousy
7. Bottle Demon
8. It's Been Like It Never Used to Be
9. Initials LV
10. Nadando
11. I've Seen You Crying
12. Marta

For more information, visit:
www.divinoninoband.com
thenativesound.limitedrun.com