On September 23rd, melodic death metal outfit

Allegaeon

will be releasing their fourth full-length, Proponent for Sentience, via Metal Blade Records. Today, the band has launched a full band play-through for the new album track, "Subdivisions" – an epic cover version of the Rush classic! To watch the video, please visit: metalinjection.net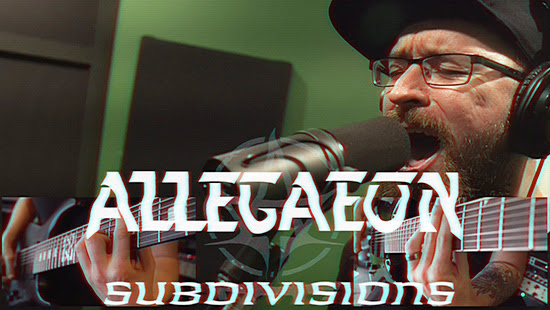 For another preview of Proponent for Sentience, please visit:allegaeon.bandcamp.com – where the first single, "Gray Matter Mechanics – Appassionata Ex Machinea", is streaming and a full band play-through of "Gray Matter Mechanics" can be seen. Additionally, fans can watch an acoustic performance of "Appassionata Ex Machinea" by Greg Burgess (guitar) on Allegaeon's YouTube: youtube.com
Proponent for Sentience can be pre-ordered now at:metalblade.com/allegaeon – where the band play-through for the new track, "Proponent For Sentience III – The Extermination", can also be viewed with guest appearances by Soilwork's Bjorn "Speed" Strid (vocals) and Scar Symmetry/ex-Bloodshot Dawn's Benjamin Ellis (guitar). See below for format details:
–CD
–180g Black 2LP
–Marbled Violet 2LP (limited to 200 copies!)
*Exclusive t-shirts, plus a special collector's bundle (8-string Legator guitar + CD + 2LP + t-shirt + t-shirt) are also available now!
Produced by Dave Otero (Cattle Decapitation), Proponent for Sentience is a musically complex, intelligent, and absorbing concept record that can rightfully sit alongside the true greats of the medium. With a lyrical arc rooted in science-fiction yet uncomfortably encroaching upon the reality of the present, it captures the Fort Collins, Colorado natives at their most ambitious and accomplished, pushing the boundaries even further than on their three previous critically acclaimed full-lengths. See below for the official track-listing!
Proponent for Sentience track-listing
1. Proponent for Sentience I – The Conception
2. All Hail Science
3. From Nothing
4. Gray Matter Mechanics – Apassionata Ex Machinea
5. Of Mind and Matrix
6. Proponent for Sentience II – The Algorithm
7. Demons of an Intricate Design
8. Terrathaw and the Quake
9. Cognitive Computations
10. The Arbiters
11. Proponent for Sentience III – The Extermination
12. Subdivisions
In support of Proponent for Sentience, Allegaeon will join Max & Iggor Cavalera Return To Roots, The Black Dahlia Murder, Combichrist, All Hail The Yeti, and Oni for a North American tour this September/October. See below for all upcoming dates!
Allegaeon tour dates
w/ Max & Iggor Cavalera Return To Roots, The Black Dahlia Murder, Combichrist, All Hail The Yeti, Oni
Sept. 12 – Las Vegas, NV – LVCS
Sept. 13 – Albuquerque, NM – Sunshine Theater
Sept. 15 – Nashville, TN – Exit / In
Sept. 16 – Louisville, KY – Diamond Concert Hall
Sept. 17 – Rochester, NY – Montage Music Hall
Sept. 19 – Knoxville, TN – The Concourse
Sept. 20 – Athens, GA – Georgia Theater
Sept. 22 – Oklahoma City, OK – Diamond Ballroom
Sept. 24 – San Bernardino, CA – Ozzfest Meets Knotfest *
Oct. 10 – Ottawa, ON – Mavericks #
Oct. 11 – Toronto, ON – Opera House #
Oct. 12 – Montreal, QC – Les Foufounes #
*=Allegaeon only
#=Max & Iggor Cavalera Return To Roots, The Black Dahlia Murder,Allegaeon only
Allegaeon line-up:
Riley McShane – vocals
Greg Burgess – guitar
Michael Stancel – guitar
Corey Archuleta – bass
Brandon Park – drums
Allegaeon online:
http://www.facebook.com/allegaeon
http://www.youtube.com/ALLEGAEON
http://twitter.com/allegaeon
http://instagram.com/allegaeonofficial